Tutor Profile
Kate's lace making career started in the early 1980's, when she was introduced to lacemaking by her mother. She lives in Perth, but through her involvement with lace, has had the opportunity to visit various countries which have a lacemaking tradition. This has given her the opportunity to see exquisite examples of the different laces and to attend workshops.
Despite dabbling in these laces, she usually returns to designing and making Torchon lace. Many of her designs have been published and she finds it rewarding when she knows her designs have been worked by other lacemakers. Kate enjoys teaching and has conducted several workshops in Perth and Albany.
Workshop Details – Playing with Colour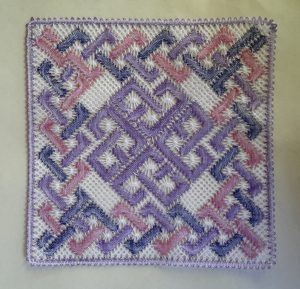 The aim of this workshop is to explore the use of colour in Torchon lace. Traditionally most lace has been made using either white or ecru thread, but today we have an amazing selection of coloured threads available to us. So why not experiment and incorporate them in your lace. The more you use colour the more adventurous you become.
During the workshop you will be looking at ways to select a variety of colours to include in your work.  You will also be experimenting with different torchon grounds to see how colour moves within those grounds. You will be encouraged to select the patterns and levels you would like to work and to challenge yourself.
The workshop caters to all levels of lacemaking experience and is available as a two or four day option.