Tutor Profile 
Belinda Daniel is an award-winning lace knitter, having won the Frances Binnie award at the Sydney Royal in 2010 for Shetland lace (the Princess Shawl), and then the grand champion award at the Brisbane Royal "Ekka" in 2019 for spinning and knitting Orenburg Lace.
She started knitting at the age of 5 when her mum wanted her kept "occupied" but only discovered it as a passion in her teenage years when commuting to secondary school by train. She began lace knitting by knitting baby clothes long before she ever had a need as that was the limit of easily available patterns.
In 1995 her family moved to the US for 9 months study leave and she saw European charted lace knitting patterns for the first time. "It was like something exploded in my head, and I was obsessed". With the advent of the internet came access to the differing traditions of lace knitting around the world. She has an extensive library of lace knitting books in many different languages but all connected by the language of charted lace patterns.
Belinda has indulged in many other handcrafts as her interests took her fancy. She is a competent bobbin lace maker. She crotchets, smocks, embroiders, and lately has been indulging in both machine and hand quilting.
Her other love is music, she spent her working life teaching children instrumental music in schools. She is now retired and had planned on adventures overseas but has, like us all, learnt to explore her back yard instead. 
Workshop Details.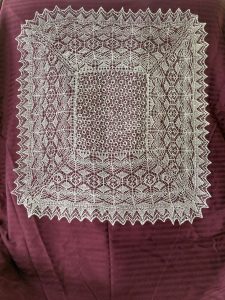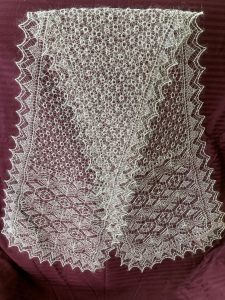 Advanced knitting class – Shetland lace
This class is designed for participants to learn the mechanics of knitting a Shetland shawl and to experience the "yarn over every row" style of lace knitting. The projects are designed to be completed relatively quickly, although it is doubtful that they can be finished in the time given for the classes.  Unfortunately, most fine lace knitting projects are a labour of love over many months.
The lace handkerchief is a miniature shawl that could easily be knit in thicker yarn to make a project that is shawl sized. The lace scarf option is for those who feel it would be a more useful project once completed.
Participants should be familiar with knitting more standard lace patterns where yarn overs are only used on alternate rows. This class will be using charted patterns. If a participant has never used charts before but feels confident to learn on advanced stitches, they are welcome to attend. Participants can choose a thickness of yarn to suit their level of expertise. Less confident knitters would find lace weight yarn and 2.5 mm needles a good combination for this style of knitting.
If participants would like to truly experience a genuine lace knitting project, I am able to provide near gossamer weight yarn for a small fee, which would work well on 1.5 mm or 1.75 mm needles. Straight needles are sufficient to knit either project. I do have some extra sets of 1.5 mm straights if participants have difficulty sourcing the finer needles. I plan to run this class over 2 days at the beginning of the conference, which will enable participants to "sit in" on the beginner lace workshop run at a later point to get extra support if needed.