Tutor Profile 
Alana is a certified Hardanger Embroidery tutor, with more than 20 years' experience in this technique.
Alana is also a certified tutor in Needlepoint and Ukrainian Counted Thread Embroidery and is working on certification for Latvian and Mounting Techniques for Textiles
WorkShop – Mereshka Drawn Thread Embroidery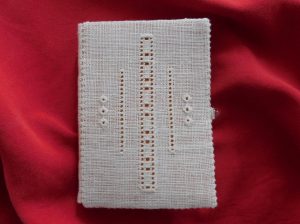 The people of the Ukraine have a long tradition of heavily decorating their clothing, both male and female, with embroidery. Designs can be geometric or free form, whitework or brightly coloured, often with black to accentuate the colours. Merezhka is a cut work embroidery, consisting of withdrawing threads and needleweaving the retained threads, and is unique to the Ukraine and some parts of Russia.
For this necessaire, students will explore several basic Ukrainian techniques – such as hemstitching (prutyk), tovmach stars, withdrawing threads and Merezhka (needleweaving).
Students will commence the embroidery for the Necessaire (11cm x 8cm) during class and some additional sewing will be required to complete the item. The necessaire has provision for small scissors and a packet of needles behind a pincushion.
The finished size is approximately 11 cm x 8 cm and worked using off-white linen even weave fabric with a count of 28 threads per inch (supplied in the kit).
No preparation work is required prior to class.
The kit, available on the first day at a cost of $25 cash, will include the prepared fabric, thread and detailed notes.
No preparation work is required prior to this relaxed class. Students will need to have some knowledge and appreciation of counted thread embroidery
Class Details
This class is a 2 day class, providing 1 day for the embroidery and a second day for the assembly.
Kit
$25 (to be paid to the Tutor on the first day of the class).
The kit includes 28 count off-white linen (prepared), thread, and detailed notes. A list of other requirements for the class will be forwarded to you after enrolment. Some additional cotton material will be needed to assemble the necessaire.