Waltzing Matilda
Did you know –
The lyrics to the title were most likely written by Andrew Barton (Banjo) Patterson, then a prominent Sydney Solicitor whilst staying at Dagworth Station in the Winton area of Queensland in August or September 1895 with his fiancé and her friend Chris Macpherson whose brothers ran the Station.
The phrase was popularised by Germans on the goldfields.  The music is from a Scottish ballad called "Thou Bonnie Wood of Craigielea" which Chris used to pluck out on a zither or autoharp.
Winton in Queensland is currently the home of the Waltzing Matilda Museum where there are extensive displays relating to outback life including the birth of Qantas, which was announced in November, 1920 with the first Board Meeting being held in Winton in February, 1921.
Bobbin Lace Category – Winner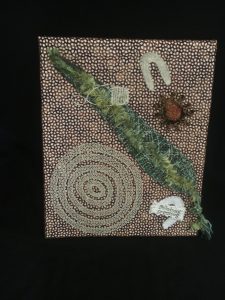 'Billabong Dreaming' – Beth Miller, Queensland
Group Category – Winner & Best in Show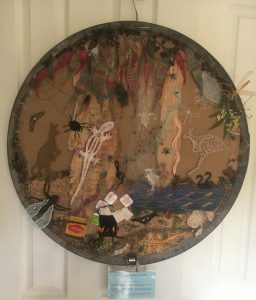 'And His Ghost May Be Heard' – Caloundra Lace Group, Queensland
Needlelace Lace Category – Winner
'Waltzing Matilda, Waltzing Matilda'….'And His Ghost May Be Heard'
Melanie Bartlett, Tasmania
Other Category – Winner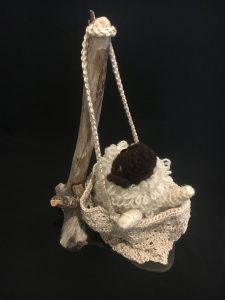 'Sheep in the Tuckerbox' – Gaye Beswick, South Australia